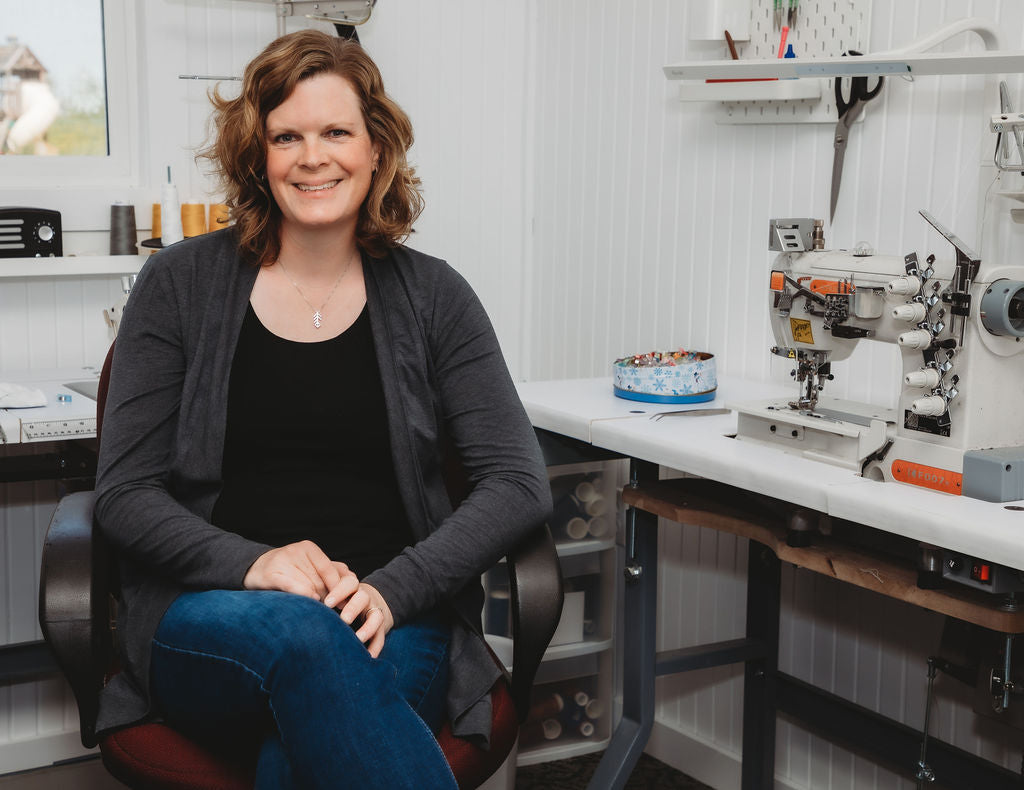 Welcome to Wheat & Wildflower Handmade!
Hello!  I'm so glad you're here!  My name is Janine and I design and sew cute and comfy clothes that fit growing kids for 3 sizes. I opened my online shop in 2020.  My studio is located at Arnes, Manitoba and you can often find me and my products at craft markets throughout Manitoba.
Wait!  Clothes that fit for 3 sizes?
Yes!  It's called Grow With Me Clothing!

As a mom of three, I am in constant disbelief at the amount of clothing that I buy for my kids and how quickly they outgrow it!  Sorting outgrown clothing is overwhelming!  So many clothes.  So much of it hardly worn!  Even clothes from well-known brands are shrunken or twisted with unraveling seams.  They are in no condition to be handed down to another child.

Grow With Me clothing is a perfect solution!

Grow With Me Clothing fits for 3 sizes.  With extendable cuffs and thoughtfully designed patterns, my clothing is stylish, functional and practical. 

Grow With Me styles mean less clothing is needed and clothes can be worn longer.  My made-in-Manitoba clothing is an easy step towards a more sustainable lifestyle.
So, who makes these clothes?
All items are cut and sewn by me, Janine, in my home-based studio.
Quality and durability are extremely important to me!  As a mom to three busy kids growing up on a farm, I know it is important for clothing to stand up to the wear and tear of active kids.  I have invested in industrial serger and coverstitch machines that allow me to create strong and stretchy seams that stand up to kids at play.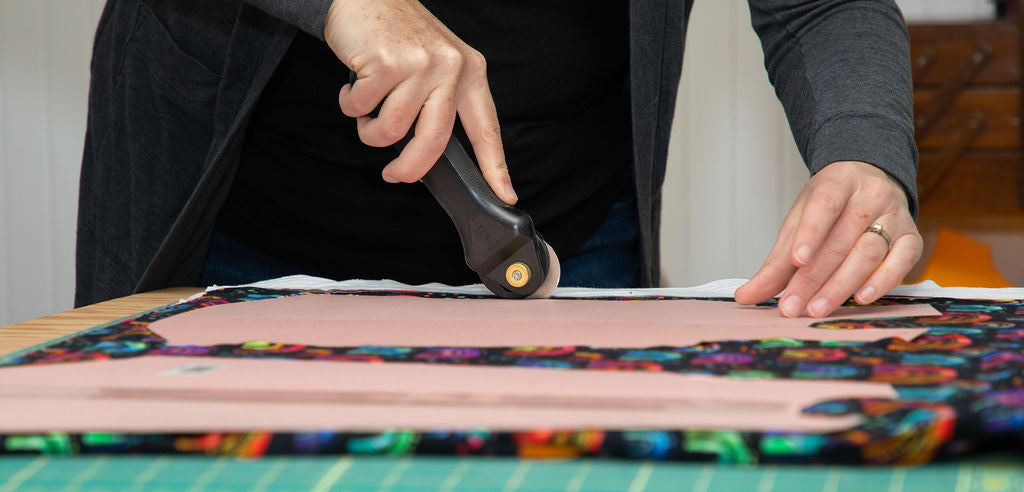 What is your favourite part of running Wheat & Wildflower?
I truly enjoy being creative when I design new Grow With Me clothing!  I love searching for the perfect prints for my collections and it is so much fun to watch prints and colors come together.  As my business grows, I have been able to work with artwork from very talented artists, many who are Canadian.  It is a magical feeling to turn beautiful art into comfortable and cozy clothing that can be worn every day.  While I am creating and sewing, I love to imagine the adventures that will be had in the clothing that I create!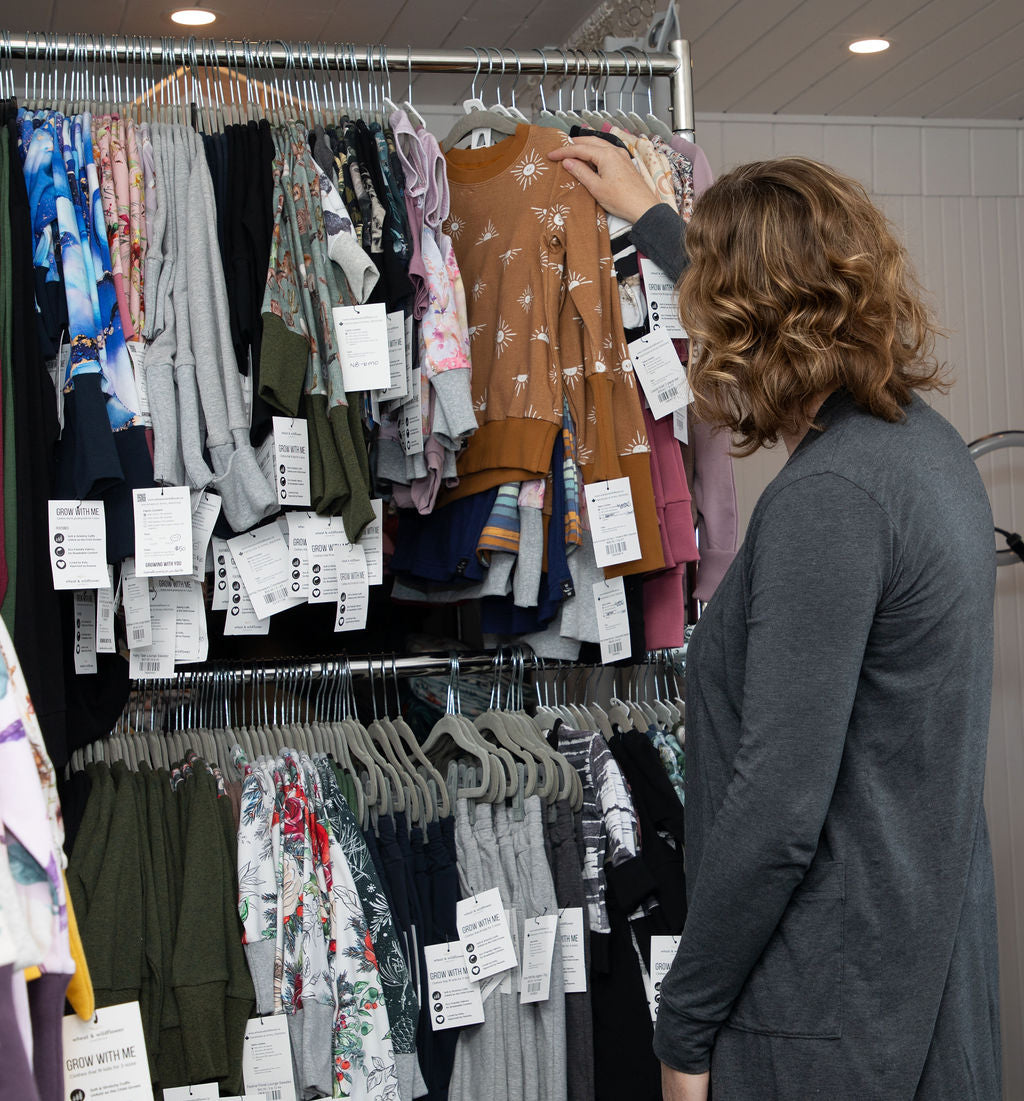 Where do your fabrics come from?
I am so proud to say that ALL of my fabrics are purchased from Canadian businesses including many small, family-owned fabric shops.
I select only high quality, natural fabrics.  I love plant-based fabrics because they are both durable and comfortable.  Natural fabrics are so nice to wear because they are breathable and moisture-wicking.  And at the end of their lifespan, they are biodegradable. 
I make the choice not to sew any synthetic fabrics, such as polyester.  But why?  Synthetic fabrics are fabrics made by humans through chemical synthesis.  The fibers used in these fabrics come from coal, oil or natural gas.  Essentially, these fabrics are made using similar processes to making plastics!  Synthetic fabrics do not biodegrade.  And most do not breathe.  They are definitely not a good choice for little bodies who have trouble regulating their temperature.
The fashion world is very wasteful.  I am always asking myself "How I can do better?"  Small remnants of fabric are sewn into colorblocked clothing and one-of-a-kind items.  With a goal of improving sustainability, small fabrics scraps remaining from clothing production are made into accessories for kids and adults including headbands, scrunchies, zipper pouches and beanies or toques.  I sew any unusable scraps and trimmings into upcycled cases and create pet beds that I donate to Gimli Humane Society.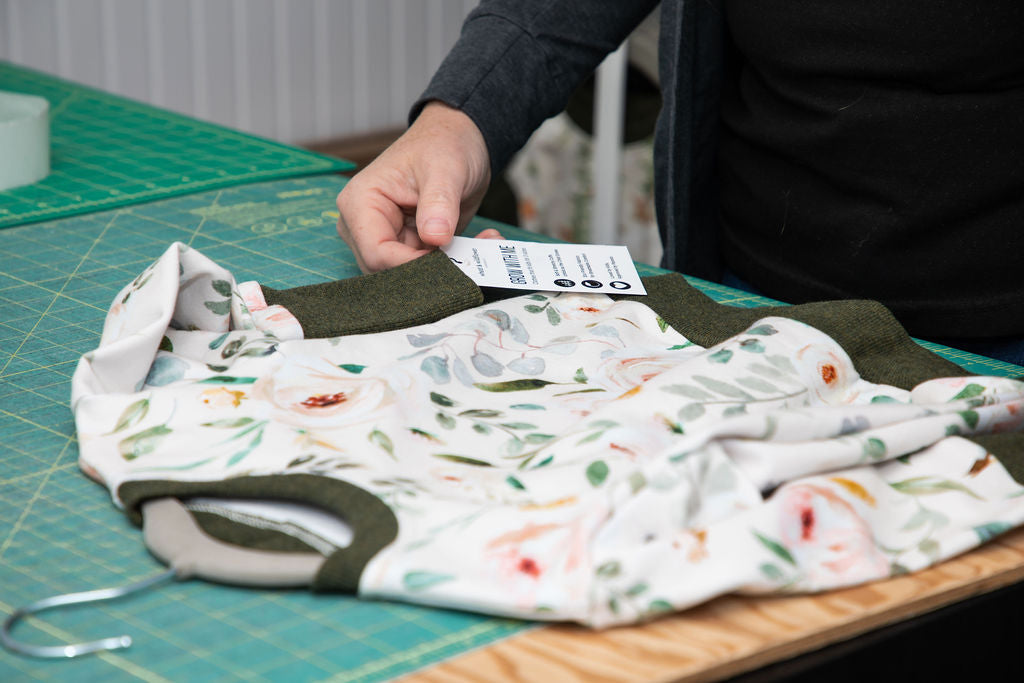 Why did you create Wheat & Wildflower?
When I was 12, I learned to sew in 4-H.  If you had asked me then if I'd build a business designing and sewing kids clothes, I would have quickly answered NEVER!
When I graduated high school, I headed to the University of Saskatchewan and I later graduated with a degree in agriculture.  I moved to Winnipeg to begin my career and it was there that I met my husband, Scott.  For more than 15 years, I worked in the ag industry, gaining experience in feed formulation, pricing, process development and improvement and business management.  And during that same time, I became a mom to three!  We were able to purchase farmland and a herd of cattle and relocated to Arnes to grow our family farm operation. 
Somewhere in the middle of raising kids and growing our farm, I turned to sewing for a bit of me time.  And soon sewing became a much-needed creative outlet I hadn't known I was missing.
Handmade clothing had quickly become my favourite gift for family and friends.  And family and friends were always asking if I had time to make more.
In 2020, mid-pandemic, corporate downsizing left with without work.  Faced with daily commuting to find a similar job, I began exploring what options would allow me to stay at home and provide more flexilibility and balance as a mom to three on our busy and growing farm.
With a huge leap of optimism and faith, I boldly moved from the life of boardrooms and travel into small shop life!  Wheat and Wildflower Handmade has combined my business skills with my love of sewing and well-made clothing!  And I'm so proud to be creating a shop that fits with my core value to be sustainable!
And the name?  That is based on my love of agriculture and nature!  When I'm not busy sewing, I love to spend time helping on our farm, gardening, riding horses, taking photos and watching the pastures for my favourite wildflowers!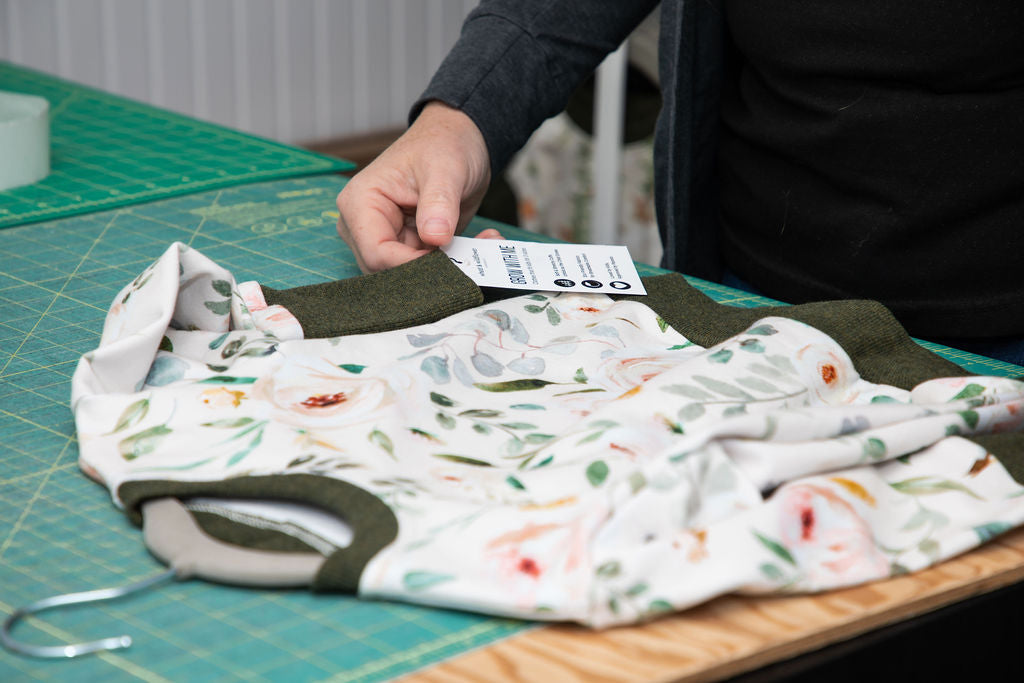 What's Next for Wheat & Wildflower?
My business has quickly outgrown the space I had in our home.  I am so excited to have recently moved into a dedicated studio on our farm!  I am also excited to be growing beyond clothing, I look forward to expanding my product line to include other fun and sustainable products your family will love!